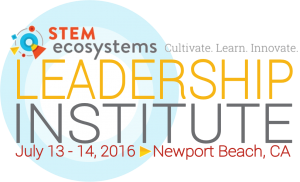 On July 13-14, members of OC STEM were invited to participate at the STEM Funders Network STEM Learning Ecosystems Initiative Leadership Institute in Newport Beach. OC STEM and over 80 key leaders representing STEM Learning Ecosystems from across the country participated in the intensive leadership development institute.
The STEM Learning Ecosystems Leadership Institute focused on Designing the Future of the National STEM Learning Ecosystem with leadership professional development and training, cultivation of local Communities of Practice, prioritization of practice groups, and tool evaluation.
Attendees had the opportunity to learn more about refined and expertly executed leadership skills, articulate communications skills in order to advocate STEM to different audiences, heightened levels of STEM knowledge to garner credibility, and much more. OC STEM is looking forward to putting these attributes of leadership to work, and is excited for the future of STEM. View the Leadership Institute video.