Women Advancing Through Technology

Background
Traditionally, there has been a shortage of women in STEM fields to a greater degree than many other professions. According to U.S. Census Bureau statistics, women in fields commonly referred to as STEM made up 7 percent of that workforce in 1970, a figure that by 2011 had grown to just 26 percent. In a world of increasing diversity, there is a greater focus on encouraging mentoring to support women throughout their education and professional lives.
The Orange County STEM Initiative was awarded a grant through JP Morgan Chase and Growth Sector to establish a technology training program to assist women from affordable housing units in Orange County. The training allowed the female participants to learn new skills that will help them address personal challenges and rise above barriers, ultimately leading to a status of self-sufficiency.
WATT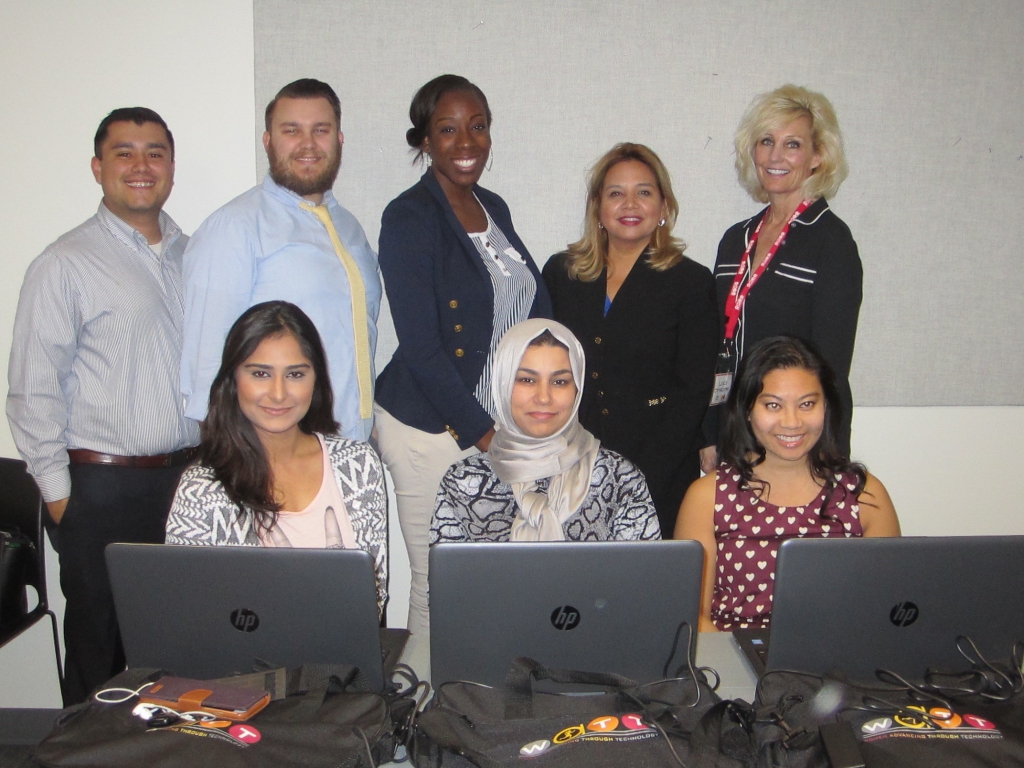 The Women Advancing Through Technology (WATT) program was created in response to the lack of women in STEM fields. The idea for the class originated at an Anaheim YMCA After-School Network event where AutoCAD instructor, Chris Kent, and OC STEM Executive Director, Linda Christopher, were conversing with a member of the Jamboree Housing Resident Services staff and realized Jamboree residents were a perfect fit for an AutoCAD class designed to encourage women to pursue careers in STEM. WATT ultimately came to fruition through a grant provided by JP Morgan Chase, an OC STEM member, through Growth Sector, a nonprofit with a strategy to provide job training for underserved populations by bringing together employers, community colleges, government, and foundations.
The five-week AutoCAD class was held for 20 female residents from Jamboree's affordable housing communities in Orange County through the collaboration of multiple local partners. To help overcome potential barriers, Jamboree Housing provided transportation to and from the class, which was hosted by the Orange County Department of Education, childcare and programs for kids during classes, as well as breakfast and lunch on each class day for participants.
This pilot group boasted perfect attendance for all five weeks of class. Upon graduation, each student was given a new laptop pre-loaded with AutoCAD software as well as a customized carrying bag. Also in attendance for the graduation were representatives from Saddleback Community College and Santa Ana College, program mentors, and guest speaker Nubia Rocha, VP & Area Manager of OC Business Banking for JP Morgan Chase, who provided information as well as encouragement for the women to pursue further education toward STEM careers.
Growth Sector provided the participants with vital resources/information on how to continue their education and pursue scholarships for immediate job certification after the mini course was completed. The skills the women will obtain in the mini course on AutoCAD will build confidence and self-efficacy in STEM related subjects. The overarching goal for this endeavor was for each woman to say at the end of the mini course, "I can do this! I didn't know I had the skills to use drafting software and design platforms in technology – but now I CAN!"  Providing additional information on how they can further their education at community college, tech school or university will help the women of WATT think about potential next steps in their education that can lead them to complete self-sufficiency.