Early Childhood Professionals Come Together For Hands-On STEM Learning
Over 400 Early Childhood educators, administrators, business leaders and more gathered together Saturday, March 18th for the 2017 Orange County Early Childhood STEM Symposium held at the Anaheim Marriott. This year's symposium provided 7 hours of professional development through various hands-on workshops, and a special keynote session featuring Astronaut Leland Melvin.
The morning kicked off with a discussion panel on the topic of "Creating a STEM-based Environment" featuring Jamie Annunzio Myers from PBS SoCal, Bo Glover from the Environmental Nature Center, and Leyla Riley from the Orange County STEM Initiative. Attendees heard from three different perspectives on STEM-based environments. PBS SoCal encourages early learning through digital media resources, whereas the Environmental Nature Center focuses on students getting their hands dirty outside. Leyla Riley brought her expertise on the Maker Movement which allows students of all ages to learn via do-it-yourself projects. These are just a few of the many ways to create your own STEM-based environment!
The first session of concurrent workshops followed shortly after. Participants had the opportunity to choose from 8 different workshops:
Thank you to all of our workshop presenters! Each session provided tons of information and resources for hands-on STEM learning.
Keynote Speaker, Leland Melvin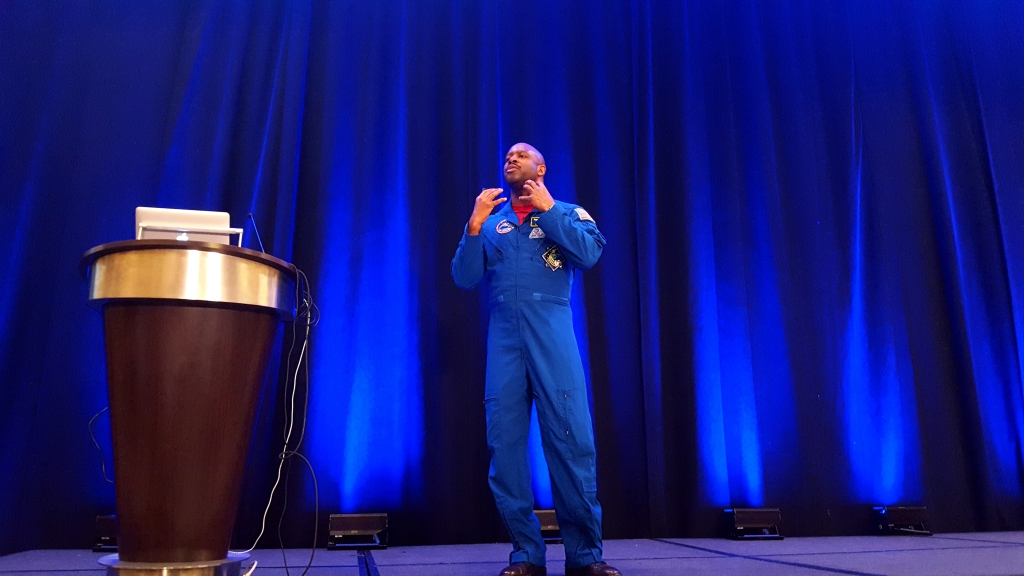 Following lunch, special keynote speaker Leland Melvin rocked the house. Leland is a researcher, STEAM advocate, and former NASA Astronaut. Before becoming a NASA Astronaut, Leland was drafted into the NFL by the Detroit Lions and later the Dallas Cowboys. He is the only person drafted to have flown in space!
Leland has a Bachelor's of Science Degree in Chemistry and a Master's Degree in Materials Science Engineering. He uses his background as an athlete, astronaut, scientist, and engineer to inspire the next generation of explorers to pursue Science, Technology, Engineering, Art, and Mathematics. Leland shared his inspiring stories of perseverance in hopes of motivating the early childhood community to continue their work in building STEAM leaders.
Read more about Leland at his website, www.lelandmelvin.com and access various STEAM learning resources.
The afternoon continued with a second session of the previously mentioned workshops, and the day finished off with an opportunity drawing for a few gift baskets.
---
Thank you to the planning committee, all of our sponsors, Leland Melvin, and our workshop presenters for helping put together this event. Lastly, thank you to all who attended in support of early childhood education. We look forward to what the future holds for early childhood STEM learning!