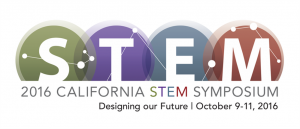 The 2016 California STEM Symposium brought together thousands of teachers, administrators, students, higher education representatives, program providers, philanthropic representatives and industry representatives to engage them in STEM education by providing strategies and resources for program implementation.
OC STEM had the wonderful opportunity to present two sessions at the symposium on October 10, 2016 at the Anaheim Convention Center. OC STEM Chair Gerald Solomon moderated an informative panel presentation with  five of the STEM Learning Ecosystems that part of the STEM Funders Network STEM Learning Ecosystems National Initiative including: San Diego EcosySTEM, Bay Area STEM Ecosystem, Ventura County STEM Regional Network (VC STEM) Learning Ecosystem and the Los Angeles Regional STEM Hub.
The second session focused on the building of Communities of Practice across the state for STEM, led by CynDee Zandes from the California Department of Education. Suzanne Hill represented the Orange County STEM Hub, a partnership between the Orange County Department of Education and the OC STEM Initiative to provide STEM Professional Development for Orange County's Expanded Learning Programs.

To learn more about OC STEM's programs and upcoming events, explore the ocstem.org website.
CA STEM Symposium Welcomes Guest Speakers from Diverse STEM Backgrounds
The symposium gathered guest speakers Sir Ken Robinson, Reshma Saujani, Edith Widder, and Derrick Pitts.
Sir Ken Robinson, author and international advisor on education, kicked off the event with his passion for education and unique views on the school system. The common standardization of education fosters conformity, preventing many students from finding their own creative approach to learning. He believes that students should not be forced into rigid molds, and instead given room to find their hidden talents.
Reshma Saujani, CEO of Girls Who Code, spoke on the lack of diversity in STEM fields and expressed her passion for women in these fields. Girls Who Code is a computer science program dedicated to educating high school women on computing and programming skills. Then organization runs various program around robotics and web design, encouraging women to eventually pursue a career in these fields.
Dr. Edith "Edie" Widder, a biologist and deep-sea explorer, shared her experiences in applying expertise in oceanographic research and technological innovation. She dedicates her time to reversing the worldwide trend of marine ecosystem degradation. The deep-sea is a very large and diverse world to explore with the use of new technologies and strategies.
Derrick Pitts, Chief Astronomer and Director of the Fels Planetarium at the Franklin Institute, closed the symposium with his enthusiasm for astronomy. He has been a NASA Solar System Ambassador since 2009 and serves as the "Astrobiology Ambassador" for the NASA/MIRS/UNCF Special Program Corporation's Astrobiology Partnership Program. Derrick shared the exciting benefits to learning more about Astronomy and the many opportunities out there to get everyone, even children, involved in Astronomy right in your own back yard. In partnership with NASA, The Franklin Institute's "City Skies" project seeks to prepare leaders in using simple but effective observation tools to help the community learn more about space science and technology.
Between each guest speaker, attendees have the opportunity to explore a large exhibition of different Maker spaces and businesses with different materials and programs to offer educators. Booths such as Inside the Outdoors, Project Lead the Way, and LEGO Education explained their different curriculum and tools for educators to help students learn in new engaging ways.
The Makerspace featured newest technologies and strategies to engage students in various computer programs and more. Hands-on projects using Arduino and paper circuits displayed the many opportunities to introduce the computer sciences to children in simple, fun ways.
The 2017 California STEM Symposium is scheduled for December 10 – 11, in San Francisco. Learn more about the symposium at stemcalifornia.org.