2017 Orange County Early Childhood STEM Symposium
Educators, community and business leaders from across the country gathered together on March 18, 2017 at the Anaheim Marriott for a special one-day event dedicated to providing STEM focused hands-on learning experiences, impactful panel discussions, and more. The day included 7 hours of professional development through various hands-on workshops, and a special keynote session with NASA Astronaut Leland Melvin.
Participants had the opportunity to choose 2 interactive workshops from the following:
---
Keynote Speaker: Leland Melvin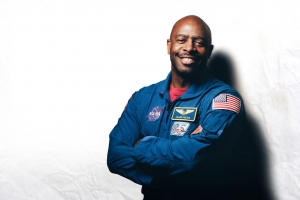 Leland Melvin was 25 feet under water in the Neutral Buoyancy Laboratory, a 6 million gallon pool, training to perform spacewalks as a NASA astronaut when he called the test director and asked him to turn the volume up in his headset. He never heard a reply and was immediately hoisted out of the pool to learn that he was deaf. Emergency surgery resulting in only partial recovery to his hearing led him to being medically disqualified to fly in space by NASA flight surgeons.
This is just one of the many career ending challenges Leland has overcome in his life. Before becoming an astronaut Leland was drafted by the Detroit Lions in the 1986 College Draft to play professional football but a hamstring injury thwarted his NFL career with Detroit and then later with the Dallas Cowboys. Hear his fascinating story of perseverance and how he ultimately traveled off-planet twice on Space Shuttle Atlantis to help build the International Space Station.
Visit Leland's website at www.lelandmelvin.com to read more about his story, and to access fun STEM learning resources.
As an attendee, you will be able to participate in two workshops. You will be asked to select your workshops during the registration process.
Please Make Sure You Have Read Through All Workshop Descriptions Before You Start The Registration Process!
Workshop 1: Science Activities for Developing Young Children's Sense of Wonder
We will share hands-on activities that engage teachers and their students in exploring science in their everyday world and that are developmentally appropriate for preschool, Transitional Kindergarten, and early elementary classrooms.
Workshop 2: Environmental Education in Your Backyard
Make your site an outdoor classroom! Participants will learn about turning their outdoor space into a STEM learning laboratory using simple strategies that combine play and learning. You will leave this workshop with a variety of ideas and curriculum to implement at your site.
Workshop 3: Let's Explore- STEM Activities for Children Birth to Three
STEM is part of our everyday environment so join us as we build on children's natural curiosity and desire to learn about their world. This workshop will focus on the foundations of STEM in early learning environments including center-based and family child care. With an emphasis on infant toddler and multi age settings, learn easy STEM activities for children birth to age three.
Workshop 4: "Tinkering" with Manipulatives: PreK and TK
Manipulatives are a powerful tool for teaching mathematics in early childhood environments. Be ready to "Tinker" with manipulatives and explore how they can be used to develop an understanding counting and sorting in young children. Join us for this hands-on workshops and walk away with ideas, strategies and activities that you can use with your students in your classroom on Monday!

Workshop 5: Integrating STEM Across the Curriculum
Learn how to integrate STEM practices throughout your early learning environment Prek-TK. Join us as we explore hands-on STEM activities that integrate learning across the curriculum including language and literacy.

Workshop 6: Let's Build, Create, and Play with Loose Parts
Come "Tinker" and explore at the Child Creativity Lab Maker's Space. Experience the joy of building, creating, and playing with open ended materials. Learn the importance of repurposing materials and how fun and engaging it is to explore with loose parts. Educators will come away with ideas on how to use loose parts to inspire and teach early learners about STEM.

*NEW* Workshop 7: Preschool Mathematical Problem Solving
This workshop will explore Preschool Math using counting collections and a problem-solving mathematics method to improve number sense and computation for our youngest learners. The participant will receive hands-on practice with research- based strategies. These strategies focus on seeing young children as capable learners and encourages teachers to pose story problems that can be solved by the child based on their own prior knowledge and critical thinking skills.

*NEW* Workshop 8: Watch, Play, Explore, Share: Strategies for Using Media in your S.T.E.M. Classroom
It is a very exciting time in the world of education, young children, and technology, but it can also feel overwhelming if you are trying to figure out how to get started in your classroom. As media continues to become more prevalent in our lives – let's explore how to use media effectively and appropriately in an ECE classroom. Together we will discuss strategies for implementing media in your S.T.E.M. classroom. Using simple & creative approaches – we will examine videos, interactive games, and hands-on activities that support science, math, and engineering learning. We will even check out a new platform that can be used to teach children basic coding skills using higher order thinking, problem solving, and storytelling. Interactive, Hands-On, and Fun.
In an effort to save on printed materials, we created a Guidebook App where you can access all things EC STEM Symposium right from your phone! The app is compatible with Android, iPhone, and iPad. Here's how you can download the official Early Childhood STEM Symposium App:
Go to the Apple Store or Google Play for Android, search "Guidebook" and download.
Open Guidebook, search for "Early Childhood STEM Symposium" and download the guide!
Click here for detailed download instructions
For desktop access to symposium materials: https://guidebook.com/guide/81539/