OC STEM warmly welcomed Clayten Eggleston, Americorps Vista Member, to their team at the beginning of summer! Read more about Clay's mission and vision as a VISTA with OC STEM, below.
---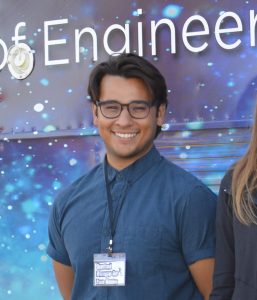 "Never doubt that a small group of thoughtful, committed, citizens can change the world. Indeed, it is the only thing that ever has."
— Margaret Mead (Cultural Anthropologist and Author)
My name is Clayten Walker Eggleston. Currently, I am serving as an Americorps VISTA with the Orange County STEM Initiative in Southern California. My duties as a VISTA are to strive to alleviate poverty and enhance economic prosperity in the community. I perform these duties by working with OC STEM programs that focus on providing experiential STEM learning to underrepresented communities within the county. These include coordination with team members, exposure to 21st century manufacturing and programming skills, along with guidance for potential academic and professional STEM paths. STEM literacy is a vital component to empowering communities as a whole. The benefits and opportunities that come along with literacy do not stop at the individual. Individuals using their skills to give back; helping communities overcome some of their most pressing challenges.
Americorps is a special organization in that it supports voluntary public works/services. While alleviating poverty is the overarching goal, poverty is a multifaceted issue, therefore VISTAs have differing roles based on their respective sites. The Americorps VISTA program operates at the local level to help build capacity within communities to address issues like poverty, healthcare, and education.

I was sworn into this position on April 16, 2018. Since then I've had time to reflect on the question: how did I get here? Well, while studying political science and philosophy at the University of San Diego — well at least towards the end of my studies — I developed this fascination with the role of the citizen. While thinking about the certain rights and restrictions we place on the citizen, I also gave thought to the centuries old questions of what is a good citizen? and Is there such a thing as a good citizen? Answers to these inquiries have differed from thinker to thinker, and will absolutely continue to do so.
The legal definition of civic duty includes jury duty, being a witness in court, paying taxes, etc. However, it should be understood that civic responsibilities are different, in that they include registering to vote, the act of voting, and public/community service. These are actions that are not required by law, nevertheless they still compliment our pursuit of a more perfect society. I firmly believe that all citizens have, and ought to engage in, civic responsibilities.
Citizenship itself comes with civic responsibilities. Yet, every individual decides for themselves the level of devotion they feel they ought to give to such responsibilities. For myself the level of devotion has grown over a few years. It began when I was an intern on political campaigns in San Diego, and now has grown into my appointment as an Americorps VISTA. The prosperity of the community is vital to everyone's interest.
While many people speak of the need for change, it is more important to act on that change; pursue progress, don't merely wait for it to show-up someday. The Americorps VISTA program appealed to my sense of civic responsibility. It gave me a tremendous opportunity to serve the public at the local level. For those looking to find work experience while giving back to the community VISTA is the way to go.
A problem for some undergraduates, and recent graduates, is that they want to be involved, and they want to work towards community prosperity, but not many entry level positions fit with that vision. So, for those struggling to find a place to use there powers for good, I say to you, join an Americorps program!